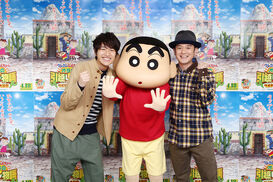 Yuzu (ゆず) is a Japanese folk rock duo formed by Yūjin Kitagawa (北川悠仁) and Kōji Iwasawa (岩沢厚治) that debuted in 1997. Both of them come from Yokohama, in Kanagawa Prefecture.
Several of their songs have been used as music themes for animes, such as Crayon Shin-chan or Hunter x Hunter. They have released more than 20 albums, including live albums recorded at concerts, and have peaked the #1 at the Japanese Top Chart several times.
The band, of which the members started as street musicians, was originally named "Light's" but as Kitagawa dislike it, they renamed it to 'yuzu' (a Japanese fruit) casually when Kitagawa was eating a yuzu sherbet.
Their relation with Shinchan began with ther 42nd single, OLA!!!, which was used as the ending theme song for the 23rd movie of the series, Crayon Shin-chan: My Moving Story! Cactus Large Attack!. Although Yuzu does not appear in the movie, promotional pictures were issued and even a special cover for the CD was designed.
Following the success of the relation between band and series, another Yuzu song, Muscat (マスカット) was chosen as a new opening for the anime series since episode 970 (July 6th, 2018). Yuzu appears as a cameo in the opening sequence of the series.
Yuzuman (ゆずマン) is, together with Shinnosuke, the main character of the opening, which is themed around grapes (muscat is also a variety of grapes). During the video, the Yuzu Family (ゆず一家), a group of characters created for the first disk of the band, also appear and dance with the main characters of the series.
Community content is available under
CC-BY-SA
unless otherwise noted.