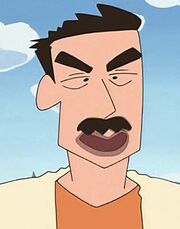 Usuto Yoshii (よしいうすと), Marty Flang in the Vitello and Phuuz dubs, is a 44 year old manga artist and Masao's favorite idol. He lives in the same neighborhood as Shin-chan. He often gets ideas from Shin-chan. He is a parody of Yoshito Usui himself (the creator of Crayon Shin-chan), and his name is an anagram of the author's own name. He is the author of Fubukimaru.
He lives with his 27 year old wife Taeko Yoshii. The editor is Sometani Hohoteko.
He visited Spain together with the Nohara family in episode 501 (Hola! Our Trip to Spain).
Other associates
Gallery
Community content is available under
CC-BY-SA
unless otherwise noted.