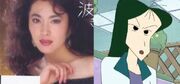 Ume Matsuzaka (松坂 梅), Miss Uma in the Vitello, Phuuz and Dutch dubs, and Ms. Katz in the Funimation dub, is the arch-rival of Midori Ishizaka of the Rose Class. She is 24 year old and single. She likes to live stylishly in public but she actually struggles to save her money for accessories and lives in a very cheap, dusty apartment.
She dislikes her given name as she always says to Yoshinaga and others, "Don't call me Ume!". This is due to one of the meanings of "Ume", which can mean "3rd class" or "low class". Although she always says she is "tired of Futaba Kindergarten (especially Shin-chan and friends)" and plans to move out to a better school, she never seriously intends to do it. She even rejects a man so harshly who offers her a better job in another school and mocks Futaba Kindergarten. Despite her bickerings with Midori, deep down she cares for her and helped her reconcile with her future husband, Junichi Ishizaka. A running gag about her is that her dates are often screwed up by Shin-chan and friends in various ways, until she meets Tokurou. Matsuzaka is also shown to have the ability to perform acrobatics. When crashed into Robert, she almost fell down. While falling, she told herself not to tear the new dress she bought just the day before. Then she tightens all of her muscles, especially the thighs, to perform a flip and lands on the iron bar. She thought in her mind that she could perform a flip because she attended a dancing class.
Matsuzaka is an attractive woman despite her personality. She has a tight body and beautiful face which explains why men can fall in love with her easily.
Before the introduction of Tokurou, she had a relationship with Kawaguchi. After Tokurou, she fell in love with Shingo Kakeda. She has two sisters: Matsu and Take.
Ume means plum in Japanese. She is named after Keiko Matsuzaka.
Voice actors
Japanese: Michie Tomizawa
English (Vitello): Grey DeLisle
English (Funimation): Clarine Harp
Dutch: Hymke de Vries
German: Christin Marquitan
Korean: Chae Eon Han
Portuguese (European, Vitello/Phuuz): Ana Vieira
Portuguese (European, LUK): Ana Vieira (2004 - 2006) → Paula Pais (2009 - Present)
Spanish (European): Nuria Marín Picó
Art evolution
Anime
Gallery