Takatora Okurai (大蔵井高虎) is the main villain of the 10th movie of Crayon Shin-chan, The Storm Called: The Battle of the Warring States. He is the head of the Okurai clan and wants to marry Ren Kasuga, to gain power over the Kasuga territory.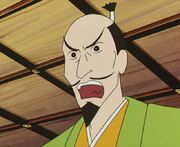 When Ren follows the thoughts of her father and refuses to marry Takatora, he declares war on the Kasuga. However, his army is not able to conquer Kasuga and during the night, they remaining soldiers got into Okurai's camp.
The main general of the army, Naotaka Tarozaemon fought Matabe to protect his lord, but meanwhile Shinnosuke and his family managed to defeat Takatora, ending the battle. Shinnosuke asks Matabe to let him live as he had already been defeated.
In the live-action movie BALLAD based on the Crayon Shin-chan movie, Takatora is portrayed by Takao Osawa (大沢たかお). He also appeared on one of the special episodes released in the main series to promote the movie, where he first met Ren and instantly fall in love with her.
Gallery
Community content is available under
CC-BY-SA
unless otherwise noted.