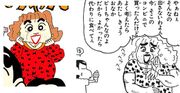 Susan Koyuki (スーザン小雪) is a transvestite who stays in room 204 of Matazuresou in the manga. She is the boss of the "ス ー ザン小雪", a cafe of transvestites in front of the station of Tokyo, where she is the boss. Her real name is Iwao Genbu (玄武岩男) , although she always refers to herself as Susan, as she keeps her feminine identity all the time.
Before becoming Susan, he was married and had a son. He was the President of the Genbu Corporation, one of the market leaders in underwear (now the President is his son, Tatsuya Genbu).
He appears as a cameo in Crayon Shin-chan: The Legend Called: Dance! Amigo!.
Voice Actors
Japanese: Fumihiko Goto
Gallery