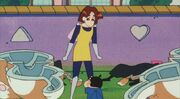 Snow Storm Ring Time patrol personnel time management of the Asian branch office 30 century. Pilot of patrol boat P23-27X. In that time, crime control, such as modification history. Two types of patrol suit the time and move to double the power and defenses, at a rate of 20 times the normal called "Dona suit on" Powered Suit have. Noticed that the abnormality occurs in the Warring States period, but was headed to the Warring States Period is the site of Kasukabe, crash landing in the basement of the home field attacked at that time. Ask because I no longer trapped, and to contact family through the body of the white field, and want to resolve the incident of the Warring States period, entrusting to time to suit them. Appeared before the family settled in the field after the Warring States period, was on the verge of invasion by the desperate situation of Hieru-Jokoman of in the modern world, along with the family to climb down to the Jokoman after helping them. After killing the Jokoman in cooperation with the Nohara family, the family thanked the deep field, went back to the future back to the original time zone of the family. Had time for back to early than the time of the original In this case, the family field is ("(ring), I pretty irresponsible child that says," Misae) have been compromised and their near-miss when going to the past. "Ring Snow Storm" her name would be "round snowstorm" when applied to Chinese characters. Feel depiction was seen even when the circle and face to face blizzards, snowstorm round against her "and others I do not think" and. In the manga version (Misae is to Shinnosuke for a different reason for the time slip Harisen that was able to jump into when you rip a punishment), and does not appear. Of pineapple that have been modified from figure gag after the final battle was Hairegu sexy.
He appeared in Crayon Shin-chan: Unkokusai's Ambition.
Community content is available under
CC-BY-SA
unless otherwise noted.