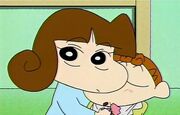 Shinko-chan (しんこちゃん Shinko-chan) is a strange girl from the future with the same facial features as Shin-chan. She has a slightly creepy demeanor, but is the opposite of Shin-chan in many ways as she is tactful, empathetic, and sees the good qualities in the people she meets. Himawari treats Shinko as her best friend, possibly due to the fact that she is Hima's future friend (around the time when Hima is 5).
There's the possibility that Shinko is future Himawari because Shin-chan on meeting Shinko, assumed Shinko to be Himawari and also her facial look and hair color is same as Himawari. She is supposedly rich, having servants and owning time machine to go back to time when Shin was 5. Another possibility is that, based on her wealth and appearance, she is the daughter of Ai Suotome and Shin-chan. Her coming is always heralded by dark clouds in the shape of coiled feces.
She has appeared only in the anime and not in the manga. Her first appearance was in episode 651b.
Voice actors
Japanese: Satomi Kōrogi
Gallery
Community content is available under
CC-BY-SA
unless otherwise noted.