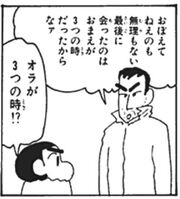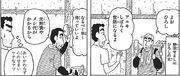 Semashi Nohara (野原せまし) is Misae Koyama's brother-in-law and Hiroshi's older brother who looks exactly like him. He is 40 years old. He's not very smart and rarely expresses any emotions. He is still single and is known to be a miser, as he once even hitchhiked to Kasukabe, Shin-chan's home city, instead of taking the train because he wanted to cut costs. He does not get along well with his younger brother Hiroshi. He lives in the countryside with his parents as a farmer working in the field. His name Semashi literally means stingy (which explains why he was reluctant to spent his money and energy). His first appearance was in volume 24 of the manga, and he has never been seen in the anime. Semashi was also the paternal uncle of Shinnosuke Nohara and Himawari Nohara.
In the September 2020 issue of Manga Town it is revealed that he is dating a woman called Ikuna who already has a son and a daughter, Itsuki and Natsumi. In the January 2021 magazine, Semashi and Ikuna are married and it is announced that they are expecting a baby.
Family
Character relationships
Yoshiji Koyama - His younger brother's father-in-law and also his sister-in-law's father.
Hisae Koyama - His younger brother's mother-in-law and also his sister-in-law's mother.
Aunt Fusae - His younger brother's aunt-in-law and also his sister-in-law's maternal aunt.