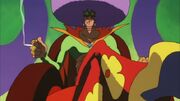 Paradise King is villain appearing in Crayon Shin-chan: The Storm Called The Jungle, he is king of Unknown island, later he is arrested by police.
Appearance
He wears a green shirt with a very long and exaggerated collar and has a few scars on his comical face and also has some goggles below his purple fuzzy hair which even Shinchan plays with, resulting in Paradise King getting annoyed. He also wears a nasty grin on his face and is often seen holding a cigarette.
Fighting Skills
He has very nice skills in Martial Arts and even gave a tough fight to Action Kamen or Action Mask. He also sometimes goes crazy during his fights and makes wreckless but also dangerous moves while laughing. He gets an advantage when fighting like a monkey and taking help from bamboo trees or trees in general in a fight. He does not like to lose and always comes back with his crazy plans.
Community content is available under
CC-BY-SA
unless otherwise noted.