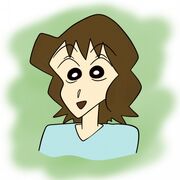 Musae Koyama (小山 むさえ), Masai in the Hindi dub, is Misae's younger sister. She is 26 years old, lazy and likes to sleep all the time. She quits her job as a photographer's assistant because her boss said to her that she had no talent. Due to the inability to support herself any longer, she moves in to live with Shin-chan's family for a time (without telling Misae in advance) in episode 562b "Oh No! The Family Just Got Bigger Today" (大変!今日から家族がふえたゾ).
She loves photography and wants to become a photographer but her father wants her to work in an office.
She got angry when her father did not allow her to become a photographer. Her father got angry too and told her to get out of his house. She went away to Kasukabe where her sister lived. During her brief stay of three months there, she was troubled by Shin-chan a lot. She sometimes got angry with him but she liked him very much.
She is a loving person. She is hot tempered and sometimes she gets very angry. She is an ambitious person, always dreaming about her imaginary career as a photographer. She is very lazy and likes to eat and sleep all the time. Her room is very messy all the time which shows that she doesn't like cleaning like her sister.
She worked temporarily in the Kasukabe Bookstore. Finally, when she was taking pictures of the children in the nursery, the official photographer of the nursery recognized her talent and hired her as an assistant in her studio. Thanks to this she could stop living with the Nohara and rent her own house, which turns out to be the same as the Nohara had, the Matazuresou.
Appearance
She is about the same height as Misae. She has though shorter, lighter brown hair and cleaner(?) bangs. Her outfits consist of a pastel shirt (short-sleeve or long) and long, light-colored pants.
Trivia
The names of the three sisters (Masae, Misae and Musae) are ordered according to the age of each one (Masae the greater, Misae the median and Musae the minor).
Gallery
Community content is available under
CC-BY-SA
unless otherwise noted.