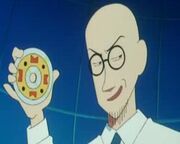 Mouse is the leader of the Pig Hooves in Blitzkrieg! Pig's Hoof's Secret Mission. There is a man of appearance skinheads called glasses, then leader of a gang of evil giant has been on a surprisingly sober attire. A cold personality. He hate children. Cried up with the monitor but also to answer questions from the children obediently tentatively, and receive "uncle! i'd not hate children" and the perverse question from Shinnosuke. Dr. Big Bag is technical cooperation, cyber terrorism contemplate world domination by. Rizaemon department and the first time the virus did not match at all but breathing. Until the end, the cold kept the despicable and took the disk from the sexy to the Shinnosuke us hostage, and you want us Shinnosuke Makikomo to the suicide bombing of base even if the strategy fails further. Been beaten unconscious last raised the ire of the muscle in such a manner that took. The survivors were eventually help us Shinnosuke.
Community content is available under
CC-BY-SA
unless otherwise noted.