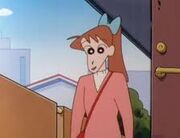 Midori Ishizaka (石坂 みどり) (Maiden name:(よしなが)Yoshinaga), Miss Dori Snell in the Vitello, Phuuz and Dutch dubs, and Ms. Anderson in the English Funimation dub, is the 24 year old teacher of the Sunflower class. Midori Yoshinaga is her maiden name.
Her new last name is Ishizaka after being married to Junichi Ishizaka since July 7, 2000. Later on, she gave birth to a baby girl (delivered by Nushiyo Ooya and Shin-chan) whom they named Momo Ishizaka. She lived in an apartment but moved to a bigger one when she married Junichi.
She is always in bitter rivalry with Ume Matsuzaka and they get into bickerings and arguments over things like chest sizes. However she takes care of Matsuzaka too. Her old place ended up being Kasukabe Defense Organization's meeting place. After she moved to a new house, they try to find their house too.
She's very obnoxious and thinks that she's the most beautiful. Midori means green in Japanese.
Voice actors
Japanese: Yumi Takada (1992-2009), Haruhi Nanao (2009-)
English (Vitello): Anndi McAfee
English (Phuuz): Cindy Robinson
English (Funimation): Caitlin Glass
Dutch: Marjolein Algera
French: Julie Basecqz
Hindi: Parul Bhatnagar
Korean: Yong Sin Lee
Portuguese: Raquel Marinho
Spanish: Pilar Ferrero
Trivia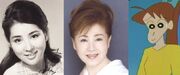 Gallery