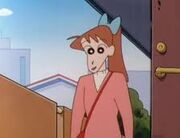 Midori Ishizaka (石坂 みどり) (Maiden name:(よしなが)Yoshinaga), Miss Dori Snell in the Vitello and Phuuz dub and Ms. Anderson in the English Funimation dub, is the 24 year old teacher of the Sunflower class. Yoshinaga is her maiden name.
Her new last name is Ishizaka after being married to Junichi Ishizaka since July 7, 2000. Before him, she didn't have much luck with her boyfriend, often commiserating with Ume Matsuzaka about their lack of love life. Later on, she gave birth to a baby girl (delivered by Nushiyo Ooya and Shin-chan) whom they named Momo Ishizaka. She lived in an apartment but moved to a bigger one when she married Junichi.
She is always in bitter rivalry with Ume Matsuzaka, and they get into arguments over things like chest sizes. However she unhesitatingly supports Matsuzaka in certain critical situations. She does not have a good relationship with Shin-chan, which is one of her students. She's someone who gets annoyed at even a glance of Shin-chan and she's always running away from him. She thinks if he's around then everything will be ruined. The only time they have met outside of school is in Australia, which was a big problem on her vacation.
She's very obnoxious and thinks that she's the most beautiful. Midori means green in Japanese.
Voice actors
English: Caitlin Glass, Cindy Robinson, Anndi McAfee
Japanese: Yumi Takada, Haruhi Nanao
Korean: Yong Sin Lee
Portuguese: Raquel Marinho
French: Julie Basecqz
Spanish: Pilar Ferrero
Trivia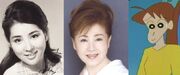 Gallery
Community content is available under
CC-BY-SA
unless otherwise noted.