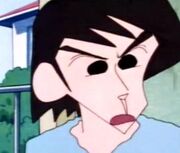 Kyuji Oda (汚田急持) is an undercover police officer who worked with Kyousuke Nigariya on a narcotics control case. They rent room 204 in the anime and room 205 in the manga in Matazuresou, although they do not actually live there. He and Kyousuke have gone to Shin-chan's kindergarten to teach the children street smarts. He and his partner pose as father and son so not to draw suspicion.
His character (both in name and appearance and personality) is based on Yuji Oda, an actor and Japanese singer, star of Bayside Shakedown, a popular detective and comedy series.
Gallery
Community content is available under
CC-BY-SA
unless otherwise noted.