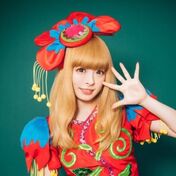 Kyary Pamyu Pamyu (きゃりーぱみゅぱみゅ) is a Japanese fashion model and singer. She was born in Tokyo in January of 1993. International fame came from the 2011 song and video clip PonPonPon which also became a hit on the internet.
In 2012 her relation with Crayon Shin-chan started of which she is a big fan herself. Between 2012 (since episode 776) and 2018 (until episode 969) the song Kimi ni 100 Percent was used as opening theme while in January of 2013 it was released on CD. It was also the opening theme song of the movies made between 2013 and 2018. The movie from 2014 also featured her song Family Party as ending theme song.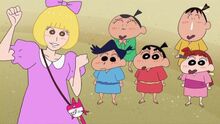 An animated version of herself appeared in episode 793b (きゃりー来航だゾ), an episode that takes place in the 19th century where Shinchan and his friends meet her. In the same history period Japan awaits the arrival of Commodore Matthew Perry to end the politics of Sakoku and open the country to the rest of the world.
She also makes a cameo appearance in the first story of the 4th volume of the manga sequel series New Crayon Shin-chan. She appears as a child on the front page and she is seen performing her song PonPonPon in the kindergarten.
In 2020 she was the voice of the princess from Graffiti Kingdom ('Rakugaki Ouen Taishi').
Gallery of pictures
Gallery of videos