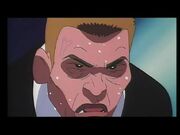 Kin'niku is Agent of SML. Muscular male of large build. While measures of drowning in the wake of Hiroshi and Misae that tried to Kikidaso Shinnosuke information about Hiroshi and Misae came under the will to act together with us, Hiroshi. The tail is the difference between sex appeal and fight, in a gun battle. When a strong sense of justice, the mouse was allowed to operate the device at the end the suicide bombing of headquarters pig hooves hit the Tekken story is defeated by him, helped us put on the airship all members of the pig hooves. Sexy former husband, in fact his affair has caused the divorce, was robbed in sexy custody at that time. Has shown that the state wants to see Segi's son, made a promise to let that get to meet sexy and Segi Once you have survived at the end. Is an expression of a people as the father of having a child Do not let it freeze to the child in the wilderness, Misae, Hiroshi, lent the tent in the sunflower, also slept outside yourself. Mom has been very violently to win, but not apparently prefer the fist.
He appeared in Crayon Shin-chan: Blitzkrieg! Pig's Hoof's Secret Mission.
Community content is available under
CC-BY-SA
unless otherwise noted.