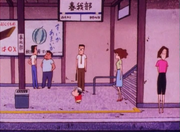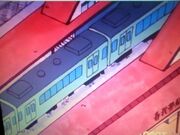 Kasukabe Station is the railway station of Kasukabe. It first appeared in episode 15.
About
Kasukabe station is based on from the Kasukabe Station operates by the Tobu Railway. It is within walking distance from where Nahara family lives.
Hiroshi catches the train at Kasukabe Station each morning (except on holidays and Sundays) to get to Futaba Corporation. Shinnosuke and Misae also catch the train sometimes to go to the mall.
Trivia
The train that Hiroshi usually picks up is gray with a blue stripe. It is based on the Automotive JNR 8000 of the 70's that still serves, thanks to improvements and reforms in it.
Starting from October 2018, Tobu Kasukabe Station starts using the third opening as the departure melody.
Community content is available under
CC-BY-SA
unless otherwise noted.