Kasukabe (春日部市, Kasukabe-shi), Kazhu in the Vitello and Phuuz dubs, is the city where the Nohara family lives. It is located in Saitama Prefecture, Japan (about 30km north of Tokyo).
Places
Shops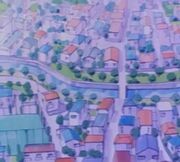 Hamburgers Kasukabe (also called "Burger Kasukabe"): only appeared in one episode in which Shinnosuke meets Robert McGuire
Action Pizza: a pizza delivery service which appeared in several episodes
The butcher, fishmonger and greengrocer: these are the stores that Misae (instead of going to the department store) usually go to, or Shinnosuke when his mom sends him
Food stalls: these stalls are always at traditional fairs and festivals
XYZ (shoe store)
Bowling centre
Peddlers
Itinerant
Vehicles
Sharpener: like the yams seller, this one also has a truck and goes around town looking for a customer.
Ragman: He also owns a truck, in which he goes around collecting dirty rags and papers to recycle, he offers toilet paper and tissues in return (which is usually of interest to Misae).
Tofu seller
Local services
Fire department
Police station
Kasukabe Hospital, seen in various episodes
Post office, seen in some casual episodes
Kasukabe Bank, seen in a casual episode
Outpatient clinic Kasukabe, seen in a casual episode
Kasukabe Library, seen in a casual episode
Houses
Other locations
Driving school, Wameo Miki works there
University of Kasukabe
Car dealership: a small dealer who appears in several episodes
The park: a park nearby the Futaba Kindergarten. It is divided into 2 zones; Grass, which includes a baseball field, a tennis court and a camping area, and the children's area, which includes a small park with games for children. In this park the Kasukabe Defense Organization usually meets.
Action Airlines
Futaba Zoo
Kasukabe Pagoda
Trivia
The name Futaba is a tribute to Futabasha (双葉社), the publisher of the Crayon Shin-chan manga in Japan.
The name Action refers to Weekly Manga Action (漫画アクション), where the manga chapters were published.
Gallery
Community content is available under
CC-BY-SA
unless otherwise noted.