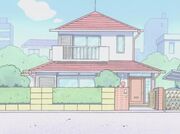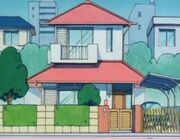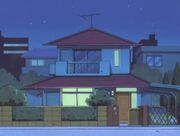 The Nohara family household (野原の家庭) is a house in Kasukabe in which the Nohara family lives.
Rooms and areas
Ground floor
Hallway, here are also the stairs and the telephone
Kitchen
Bathroom
Toilet
Living/dining room, here is the TV located
Bedroom
Garden, here is Shiro's doghouse located
Garage
Second floor
Work office
Second bedroom, here the bed is located
Attic (accessible by the cabinet family room)
Balcony
History
Hiroshi and Misae bought this house a few years after their marriage when Shinnosuke was born. Before that they lived in an very small apartment so they moved because of lack of space for the child. They still have to pay 32 years of mortgage.
Collapse and subsequent reconstruction
Main article: Matazuresou
After an gas explosion in one episode the house collapses and they have to find another house to live in while they rebuild the old house. They decide to go to the Matazuresou since these apartments resemble the apartments where Misae and Hiroshi lived before Shinnosuke was born. These apartments are in an old looking building but they can withstand storms and typhoons. Finally, after being in the Matazuresou for several episodes they returned to the old home when the rebuilding was finished.
Gallery
Hallway
Living/dining room
Kitchen
Bathroom
Garden
Community content is available under
CC-BY-SA
unless otherwise noted.