Hosaku Kamon (加門 豊作) is a kid that went to the Futaba Kindergarten (particularly to the Rose class) as an exchange student during the summer holidays. His biggest hobby is gardening and he is an expert detecting potatoes underground. He appeared on the episode 581b (イモ掘り対決だゾ) of the anime and in the 44th volume of the manga.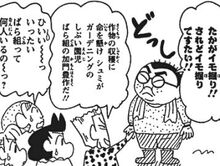 All the kids go to the countryside to pick up potatoes. The kids take it as a competition between classes, and Shinnosuke and his friends were weak against the Rose class, as Hosaku was leading by far getting the biggest potatoes. He is also the only one to discover that Ume Matsuzaka is not the city woman she pretends to be, based on how she behaves in the field.
Finally, he is defeated as Shinchan and his friends find an extremely huge potato, 'one every hundred years', according to Hosaku who feels completely destroyed.