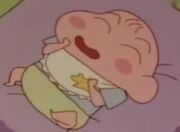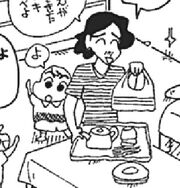 Not to be confused with Hitoshi Chumwinbura!
Hitoshi Honda (本田ひとし) is the son of Satoshi and Keiko. His nickname is "Hito-kun". He is always smiling.
He gets along very well with Shin-chan, with whom he once went to the park to make friends. However, the company of Shinnosuke is not entirely agreeable for his mother, since sometimes Hitoshi has appeared all painted and with the typical elephant that Shin Chan draws. In later episodes he is seen more with Himawari since both babies are playmates.
In the manga the character is very special as it is the only character in the whole series that has grown. It is seen how he is born, how he is a baby, and how he grows and learns to walk and talk and goes to swimming school. While Himawari still hasn't grown.
Gallery