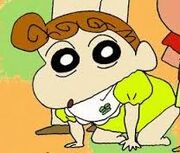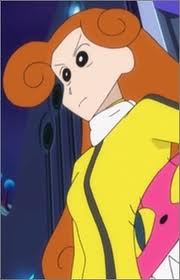 Himawari Nohara (野原ひまわり), Daisy Nohara in the Vitello, Phuuz and Dutch dubs, is the youngest child of the Nohara family, born on September 27, 1996 (the date of the special in which she was born). She is a precocious and vibrant infant. While technically newborn, her character has matured and grown more intelligent during her stay in the series. She possesses a palpable lust for shiny objects (jewels and precious metals) and brand-name goods, being able to discern a real jewel from a simple piece of imitation (and throwing away the latter).
She emulates her mother in her utterly stubborn pursuit of handsome young men who catch her eye, not unlike her older brother, who soon discovered that a way to pacify her was to put on a cutout mask of a known handsome actor. In her family she is an icon of adoration and annoyance, causing trouble she cannot be blamed for given her infantile innocence. She is naughty and very active. She can be extremely fast crawling, tiring out even Shin-chan, and often uses Shiro as a toy. Her name means "sunflower", which are occasionally seen on her clothing and toys. Her name was chosen by the show's viewership and not the creator. She can't talk.
In Super-Dimension! The Storm Called My Bride Himawari appears as a approximately 20 years old. She works as a policeman, and still makes the same face when she sees a guy.
Relations
Masao sees Himawari as a sister and dreams of Himawari calling him "Masao onii-chan". While Shinnosuke appears to be slacking off when taking care of Himawari, Masao takes care of her in an episode. At the end of the episode Masao walks back to his home during sunset.
Trivia
Her name was chosen by drawing in another episode 204-2. The winner of the draw was Shin-chan. He probably named her after the class he is in, the sunflower class (Himawari means sunflower).
Her name "Himawari" was chosen from the submissions from the audiences. There was about 107,135 submissions and about 2807 names submitted.[1]
She can't speak, so what she's saying and thinking are shown as subtitles.
Voice actresses
Vitello dub: Russi Taylor
Funimation dub: Colleen Clinkenbeard
Japanese: Satomi Koorogi
Korean: Min Jeong Yeo
Italian: Letizia Ciampa
Spanish: Mayra Arellano 
Art evolution
Anime
Gallery
Footnotes
↑

Episode 204-2
Misae Koyama
Community content is available under
CC-BY-SA
unless otherwise noted.