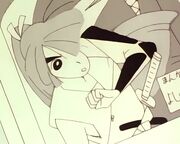 Fubukimaru (少年忍者吹雪丸) is the manga that Usuto Yoshii writes weekly. Masao and Shinnosuke are great fans of Fubukimaru.
In the movie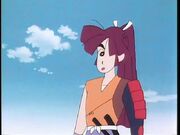 In Unkokusai's Ambition the protagonist is a young girl pretending to be a male ninja and is also called Fubukimaru. Since the appearance of this character in the film is exactly the same as in the manga of Usuto, they have the same name, and the theme is similar, it is almost certainly the same character.
Fubukimaru Kasuga (春日吹雪丸) is a 15 years old samurai/warrior girl. She is heiress of Kasuga family, she got scared, her mother and father were killed by one of warriors (Matabinekonoshi). Kasuga is a memento of the castle was destroyed. Are traveling toward the castle when the black cloud to help the sister that was trapped when the black cloud. There is also considerable arm of the sword, which overthrew many soldiers in the castle black cloud on board the "engine" of the most favorite horse is a tit of the country. Initially, any person claiming a man had to be found in the middle story were actually women. Depiction of the conflict, such as "not when forced to man "himself" at strategic points in her story suggests. After Shinnosuke was defeated when the black cloud, and lord of the castle Kasukabe. Replied, but when that get picked up by Shinnosuke "not wife of Ora?" And with "Refuse!" For the takeover of the castle was supposed to be black cloud by then there was no history, circle snowstorm is my understanding that "dream" when the black cloud events defeated. In the original comics is set and has a completely different movie version, but was convinced that women will arbitrarily and Shinnosuke and Hiroshi. Later, Rebirth of Fubukimaru is still alive, has a dream. Her mother is smiling at her.
Quotes
"But...I...am NOT a woman!" - Fubukimaru
Gallery
Community content is available under
CC-BY-SA
unless otherwise noted.