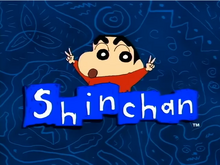 Crayon Shin-chan in The Netherlands refers to the Dutch adaptation of the Crayon Shin-chan series in The Netherlands and Flanders (Belgium).
Manga
The manga was not released in Dutch there despite the popularity of the anime. Some short comic stories were published in the Dutch version of Fox Kids and Jetix Magazine.
Anime
The series aired in the Netherlands from February 1, 2003 until August 25, 2007 on Fox Kids/Jetix and on KANAAL TWEE in Flanders (Dutch part of Belgium) from September 1, 2003 until March 18, 2005. While the series aired in more Dutch language areas the entire cast and production crew originated from the Netherlands, which possibly makes it the most famous foreign dub outside of the Japanese and English dubs. The dub was translated from the American Vitello dub (episodes 1-52) and the American Phuuz dub (episodes 53-130) while it was produced by JPS Producties. For one episode aired in 2008 it is unknown what dub it was translated from.
According to Shin-chan's Dutch voice actress, Melise de Winter, the reason that the series was taken off the air in the Netherlands could have been because of complaints by parents. Measured by ratings, Crayon Shin-chan was one of the most successful series ever aired by a Dutch children's channel. According to rumors at least 130 episodes (around 390 segments) were produced of the Dutch version.
There have been more reports of Dutch television channels giving in to small groups of activists. The most recent and most known example is the traditional holiday character 'Black Pete': while no nationwide channel still carries any television series with this character in the traditional style, 95 percent of the Dutch people want this character in the traditional style.
Currently, only the Dutch episodes 1-19, 22, 23, 24, 26 and 41 have been released on DVD of which some have also been released on VHS. These were released by the company Bridge Entertainment, a company that is currently a part of Just Entertainment. The Dutch theme song was released on the music album 'Fox Kids Hits 7' in 2003 while the song 'Cosmo's Afscheid' ('Cosmo's Goodbye') was released on the music album 'Fox Kids Hits 8' in 2004. Adapted by singer/songwriter/voice-actor Niki Romijn.
At present fans and voice actress Melise de Winter, who voices Shinchan in Dutch, would love to have new Dutch episodes of Shinchan. In new episodes fans want the original Dutch cast to voice the characters while there is also demand for the original Dutch theme song to be re-used. In a questionnaire taken in the year 2020 among 250 people the Dutch dub was given an average 8,5 out of 10 rating. In 2019 German actors were replaced for the dub of the 2017 season, which means it is very important to tell a distributor you want the original Dutch actors when asking for new episodes. The Dutch channels FOX and Disney Channel would be the best choices to start asking. If those options fail, the DVD distributor Just Entertainment would be a good choice because the distributor Bridge Entertainment fused together with that company.
Some merchandising based on the television series was also released.
See also: Trading cards in the Netherlands
See also: Home video in the Netherlands
Dutch cast
Shinchan Nohara: Melise de Winter
Mitsy Nohara: Ingeborg Wieten
Harry Nohara: Jan Elbertse
Daisy Nohara: Melise de Winter
Teacher Dori: Marjolein Algera
Teacher Uma: Hymke de Vries
Nini: Lucie de Lange
Cosmo (1): Lottie Hellingman
Cosmo (2): Angélique de Boer
Max: Tony Neef
Principal Enzo: Bram Bart
Masked Muchacho: Ewout Eggink
Grandpa Gary Nohara: Bram Bart
In some episodes Hilde de Mildt replaced Marjolein Algera in the role of Dori, this led to complains by fans who only wanted Marjolein Algera in that role. In the year 2012 Bram Bart passed away, he portrayed the role of principal Enzo.
Dutch theme song
Hey, hey, hey, Shinchan
Problemen maken daar houdt 'ie van
Hey, hey, hey, Shinchan
Overtreed de regels wanneer het maar kan
Af en toe dom, nu en dan stom,
maar daar geeft 'ie echt niet om
Shinchan
Ze ouders zijn wanhopig,
op school gaat het niet goed
Hele dagen luieren is wat hij het liefste doet
Z'n moeder noemt hem altijd haar engel
Maar hij is eigenlijk een vreselijke bengel
Hey, hey, hey, Shinchan
Problemen maken daar houdt 'ie van
Hey, hey, hey, Shinchan
Overtreed de regels wanneer het maar kan
Af en toe dom, nu en dan stom,
maar daar geeft 'ie echt niet om
Shinchan

The original English version (of which the Dutch version is a translation) is composed and written by John Loeffler and John Siegler. The Dutch adaptation is written by Niki Romijn.
Community content is available under
CC-BY-SA
unless otherwise noted.