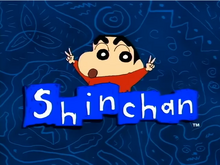 Portugal is a country in South Europe with around 10 million inhabitants. Along with Spain, it's one of the countries where Crayon Shin-chan has experienced the biggest success, with a great quantity of episodes being translated, and with the series growing in the memories of various people groups across the nation.
Manga
Despite the popularity of the anime, the manga was never released, probably due to the lack of demand for the manga from the public.
Anime
The series first aired on SIC in 2003 with a translation of the Vitello and Phuuz dubs.
The uncensored version then arrived to Portugal by hands of LUK Internacional on Animax in October 2009 and continued airing on the channel until its closure in 2011. A continuation of the Animax dub resurfaced on Biggs in June 2013, this time premiering the episodes in packages of 26 and then 52. The anime series is no longer airing on Biggs since 16 December 2016 due to a controversy which caused the few episodes of the anime series to move to the late-night rotation before taken down again.
Since January of the same year, LUK Internacional has been continuously releasing episodes of their dub on the Youtube channel "Shin-chan em Português". The channel is managed by LUK Internacional themselves. The content seems to be reruns of what has already been released on TV, with little to no new exclusive content.
Community content is available under
CC-BY-SA
unless otherwise noted.