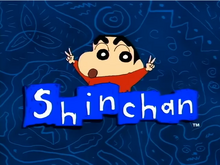 Crayon Shin-chan in Germany refers to the German adaptation of the Crayon Shin-chan series in Germany.
Manga
The manga was published by Egmont Manga & Anime and cancelled after eight volumes due to low sales.
Anime
A German dub was produced by Interopa Film based on the English dubs of Vitello and Phuuz. It aired on RTL 2 from 5 April 2002. Later it went to Fox Kids and Jetix, the series aired for the last time on Animax. A total of 130 episodes aired in German, and in the Autumn of 2003 15 episodes were released on three DVDs/VHS. Of the first 52 episodes two dub versions exist. The first aired from 5 April 2002 to 24 June 2002, this version was filed with foul language partly exacerbated from the English dub. Because of protests the series was suspended for a month and received a new dub. From then on, only this dub was aired on RTL 2 and Jetix. Episodes 53–130 didn't have exaggerated formulations from the outset. As a result of that these episodes were closer to the original than the first 52 episodes. For the German version the original English theme song was remixed and performed by the band Bro'Sis.
In 2019 a new batch of episodes was released on DVD by distributor Polyband based on the Spanish dub. The Japanese names were used instead of the Vitello names. The dubbing is produced by DMT – Digital Media Technologie GmbH in Hamburg. Unfortunatly, for the dub of this 2017 season the German actors were replaced.
Community content is available under
CC-BY-SA
unless otherwise noted.