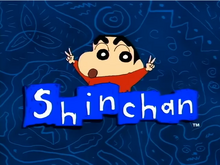 Crayon Shin-chan in France refers to the French adaptation of the Crayon Shin-chan series in France and Wallonia (Belgium).
Manga
The manga was published in French by J'ai lu for the first time on May 15, 2005, the fifteenth and final volume of the French publisher was published on August 13, 2006. Casterman continued the publishing of the manga, this time bimonthly, on 11 March 2008 from Volume 16 under the title Crayon Shin-chan Season 2. Casterman published under its label Sakka 23 volumes of the "second season" (Japanese volumes 16 to 38) until October 2012 before suspending the release of 12 remaining volumes.
Anime
The French dub was directed by Frédéric Meaux, produced by La Dame Blanche and was a translation of the Vitello and Phuuz dubs. It aired in Wallonia (French-speaking part of Belgium) on Club RTL and in France from 31 August 2002 on Fox Kids (Jetix in 2004). A second French dub was released by LUK Internacional in the Nintendo 3DS eShop on December 22, 2016 in five volumes, this dub consists of other episodes than the English LUK Internacional dub, and it was based off the European Spanish dub.
Community content is available under
CC-BY-SA
unless otherwise noted.