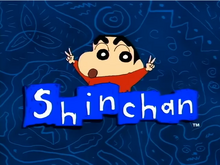 Crayon Shin-chan in Denmark refers to the Danish adaptation of the Crayon Shin-chan series in Denmark.
Manga
The manga was not released in Danish there.
Anime
In Denmark, Shin-chan was aired by DR1 with a Danish dub based on the Vitello dub.
This dub was lost, and the only the recordings of the intro and the Danish dubbed episode "Where's My Sister, Mister?" were found in Internet.