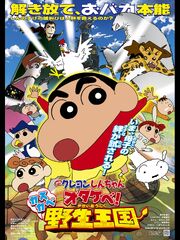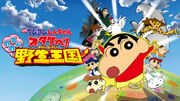 Crayon Shin-chan: Roar! Kasukabe Wild Kingdom (クレヨンしんちゃん オタケベ!カスカベ野生王国 Kureyon Shinchan: Otakebe! Kasukabe Yasei Ōkoku) is a 2009 anime film. It is the 17th film based on the popular comedy manga and anime series Crayon Shin-chan. The film was released to theatres on April 18, 2009 in Japan.
The film was produced by Shin-Ei Animation, the studio behind the TV anime.
Shin-chan's parents have turned into animals, and environmental extremists are to blame! Shin-chan's going to have to put things right.
Manga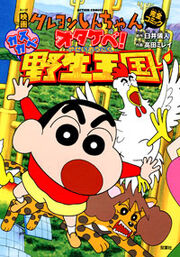 Japan: December 12, 2009 - 978-4-575-94256-9
Plot
Shin-chan goes on a rampage to stop a radical ecology group from implementing their dreadful plan to turn humans into animals. The comedian Yamamoto Takahiro delivers a comical performance as the voice of an activist in the ecology group. The black American "enka" singer Jero voices his own character and sings the movie's theme song, Yancha Michi (Naughty Road).
The ecology movement has suddenly become popular in Kasukabe. Shinnosuke has been mobilized to clean trash from the riverside, where his parents Hiroshi and Misae find and drink a mysterious drink, which gradually transforms them into animals. It turns out that the new ecology activist mayor, Mamoru Shizen, is the leader of SKBE, a group that plans to use drugs to change people into animals in order to halt the destruction of the environment. To save his parents, who have been taken away, Shinnosuke, his friend Kazama, and others from the Kasukabe Defence Force descend on the headquarters of SKBE.
Characters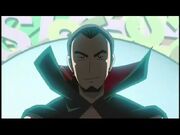 Manoru became the new mayor of Kasukabe. He is the leader of the radical environmental conservation organization "Save Keeping Beautiful Earth (SKBE). In order to curb the environmental destruction they invented the "Plans for animal humanity."
A 19 year old beauty that Shinnosuke met. She tried to prevent the plan of the SKBE. Her real name is Yoshiko Shizen.
Has an appearance like a horse.
Gallery
Community content is available under
CC-BY-SA
unless otherwise noted.