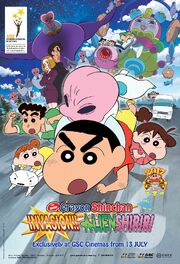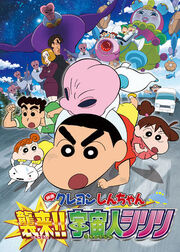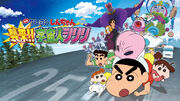 Crayon Shin-chan: Invasion!! Alien Shiriri (クレヨンしんちゃん: 襲来!!宇宙人シリリ Kureyon Shinchan: Shūrai! Uchūjin Shiriri) is a 2017 Japanese anime film produced by Shin-Ei Animation. It is the 25th film of the popular comedy manga and anime series Crayon Shin-chan. It was released on 15 April 2017 in Japanese theatres. It is directed by Masakazu Hashimoto, who also directed the 21st movie Crayon Shin-chan: Very Tasty! B-class Gourmet Survival!! and 23rd movie Crayon Shin-chan: My Moving Story! Cactus Large Attack!.
This is the fourth time that a Crayon Shin-chan movie is based on aliens, the previous ones being Action Kamen vs Leotard Devil in 1993, The Storm Called: The Singing Buttocks Bomb in 2007 and The Storm Called!: Me and the Space Princess in 2012. The 2016 spin-off season Gaiden Alien vs. Shinnosuke was also based on aliens. With this movie, Crayon Shin-chan celebrates the silver jubilee of its movie series.
When the mysterious Shiriri turns his parents into children, Shin-chan must trek across Japan to help return them to adult form.
The film's story begins when Shiriri, an alien, arrives and turns Hiroshi and Misae into children. To turn them back, Shinnosuke must travel the length of Japan with Shiriri hidden in his butt. Meanwhile, Shiriri's father is moving forward with a huge conspiracy.
Slogan
The slogan of this movie is That night both got ASSociated (その夜ふたりはシリあった).
Plot
One day, the Nohara family met a mysterious alien from outer space named Shiriri. On being basked by a ray emitted by Shiriri, Hiroshi and Misae became 25 years younger and appeared as kids. To be able to return back into adult form, they must find Shiriri's father, who is somewhere in Japan. This situation, which initially started with Shinnosuke's family and later his friends, gradually involves the entire of Japan.
Manga
Japan: April 15, 2017 - ISBN 978-4-575-96194-2
Media