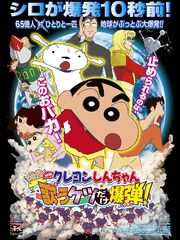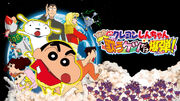 Crayon Shin-chan: Fierceness That Invites Storm! The Singing Buttocks Bomb (クレヨンしんちゃん 嵐を呼ぶ 歌うケツだけ爆弾! Kureyon Shinchan: Arashi o Yobu: Utau Ketsudake Bakudan!) is a 2007 anime film. It is the 15th film based on the popular manga and anime series Crayon Shin-chan.
The film was released in theatres on April 21, 2007 in Japan. It was later released on DVD in Japan on November 23, 2007.
When an alien bomb powerful enough to destroy the entire planet sticks to the buttocks of Shin-chan's pet dog Shiro, a race to save the world begins.
Manga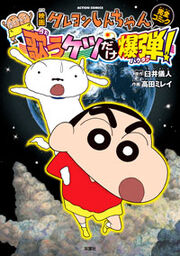 Japan: December 10, 2014 - ISBN 978-4-575-94432-7
Plot
The Nohara family was enjoying a trip in Okinawa, when a bomb, dropped by aliens "Ketsudake Seijin" ("The Only Buttocks Aliens"), gets stuck to the rear end of Shiro by accident. The incident is found out by the UNTI (Unidentified Nature Team Inspection), an organization that monitors the universe, and the UNTI starts a recovery operation. Shinnosuke learns that the bomb is powerful enough to blow up the whole Earth and that it cannot be taken off Shiro by any means.
A mysterious female terrorist group "Hinageshi Opera Company" is also after the bomb and disturbs UNTI's work. Shinnosuke and his family try to protect Shiro, and a three-way struggle unfolds. At last UNTI captures Shiro and gets ready to launch Shiro and the bomb into outer space. Shinnosuke climbs aboard the rocket to save Shiro. The bomb mysteriously falls off Shiro's bottom, and Shinnosuke and Shiro narrowly escape from the rocket that has already been launched. Peace returns to the Nohara family.
Characters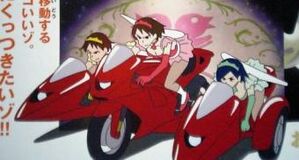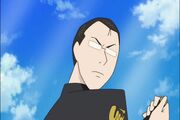 Madame Butterfly

Poppies head of the opera.

Kinpa, Ginpa

In the frame of your entourage, an eerie duo with a mask. Use techniques such as airborne and brainwashing. But it can also be seen as manipulating the pieces your wife, was a mysterious character that identity is not known until the end after all.
Three daughters belonging Poppies opera. Sarara Kurara, Urara yellow costume girl, girl girl costume red green costume.

Dandelion

Poppies opera spies had infiltrated the UNTI. Representing the identity opera company when the late corn poppy was infiltrated into the base of UNTI.

Gorilla and hippopotamus

Shigure hospital aides.

Shigureinji Tsune

Secretary of the (Untsu~i) UNTI.
Gallery