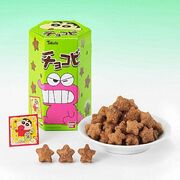 Chocobi (チョコビ) is a fictional chocolate star-shape snack brand favored by Shinnosuke. It is a famous brand in real-life and continues to do so via the anime's popularity.
Later it is important in Crayon Shin-chan: Action Mask vs. Leotard Devil. He chooses the Chocobi with the golden card in it purposely by Action Mask. The dinosaur is called Waniyama-san.
In real life
See List of Chocobi editions for a complete gallery of the boxes released.
Due to popularity of Crayon Shin-chan, a great variety of Chocobi products have been released in Japan by several brands. Later on, some products were also released in Hong Kong. According to director Misturu Hongo, the shape of the box was based on the popular biscuit in the 90s Koala's March.
The first Chocobi cookies were released in May 1993 by the Korean brand Lotte (ロッテ) in Hokkaido and Tohoku regions, and later on in July in the rest of the country. It was different of the cookies depicted in the series, as it consisted of chocolate-covered peanuts. Two flavours were issued, Chocolate and Royal Chocolate (which contained almonds).
Later at some point of the early 2000s, Orion (オリオン) started producing star-shaped biscuit similar as the shown in the series. The package, however, was clearly different fron the hexagonal-based green box depicted in the anime. These biscuits have been produced since then.
It was not until March 2006 when a collaboration between Tohato (東ハト) and Bandai (バンダイ) released the Chocobi cookies identical as the series, which also resulted in a great commercial success. Special flavours were issued as early as 2007, but 2010 marked the beginning of the success with special editions issued as much as 3 or 4 times per year. More than 60 of these editions have been issued, with Chocolate/Banana and Chocolate/Strawberry Milk being released more than once.
This last Chocobi has had a collectable sticker since its beginnings, which contributed to its success. Nowdays, Chocobi boxes can be found in specialized Japanese food shops all over the world, as well as in anime festivals as Shin Chan merchandising. A great variety of products (such as mobile phone cases, pillows, pencil cases...) have been manufactured based on the typical green Chocobi box.
Additionally, both Bandai on its own (in the late 90s) and in collaboration with Morinaga (森永) have produced Chocobi-labelled sweets that are closer to biscuit sticks or chocolate bars than to the cookies shown in the series.
Outside Japan, Chocobi has been also officially sold in Hong Kong. The brand Four Seas Group (四洲) has released both normal and special editions.
Gallery
In the series
Real life
Selling points in real-life
Outside Japan the cookies are available on the web. Not only through importing, it varies per area.
Unites States: www.amazon.com
Canada: www.amazon.ca
United Kingdom: www.amazon.co.uk
Netherlands: www.mostcutest.nl
Spain: www.amazon.es