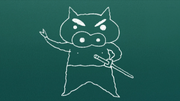 Buriburizaemon's Drawing Song was used as ending song in episode 938–942 of Crayon Shin-chan.
Lyrics
SHIN: It's the Buriburizaemon drawing song!
SHIN: Grab a piece of paper and a pen!
BBZ: Twin sunny-side eggs,
BBZ: Lucky!
BBZ: Jutting off the side of the plate.
BBZ: Two pickled plums (umeboshi), sour!
BBZ: Pick up your chopsticks and let's eat!
BBZ: Now draw a hoof squeakily-clean,
BBZ: And before you can say "oink",
BBZ: There's Jean Pierre Andre Josefdo Chateau-Brianne!
(note: that name's an alias he uses in an early special (野原刑事の事件簿2だゾ)
Community content is available under
CC-BY-SA
unless otherwise noted.