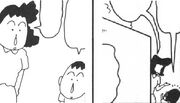 Ms Suzuki (ボのママ / ボーちゃんのママ) has appeared only once in the manga. She is the mother of Bo and Nizu. Shin-chan, Kazama-kun, Nene-chan, and Masao-kun have tried to imagine what she looked like. Nothing is known about her husband except that she lives with her son in Kasukabe.
In volume 10 of the manga we do see Boo-chan's mother. It is a story in which Shin-chan, Nene, Masao and Kazama want to find out who Boo-chan's mother is. First, they try to imagine it: while Shinnosuke thinks of a beautiful young girl, the rest believe that she will have the same features as Boo-chan.
They decide to follow Boo-chan to his house, but they cross a parade and lose him. In the end you see Boo and his mother from afar, but this one does not distinguish her face. The boys conclude that even if they do not know the origins of Boo-chan, it does not matter because he is a good boy.