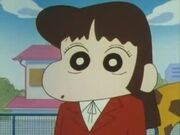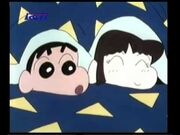 Ai Suotome (酢乙女あい, Ai-chan) (5 years old), Sally in the Phuuz dub, is a relatively newer character addition to the show who appeared for the first time in episode 339-1.
She is born in New York and is from an extremely rich family. She happened to be enrolled into the Futaba Kindergarten because she threw a dart at the map of Japan and hit Kasukabe, thereby determining where she would go next. She is always seen riding in a black limousine and with a bodyguard. She is very manipulative and purposely bends people to her will just because she can. For example, she made many boys at Futaba Kindergarten fall in love with her. However, when she tried to do the same to Shin-chan, she failed. Because of that, she fell in love with Shin-chan and being the manipulator she is, uses his weaknesses (Action Mask, Chocobi, etc.) to get him to notice her. Masao likes her very much, but Ai almost never pays attention to him. When she does pay attention to him, she makes him act as her pet.
She is also a fierce rival of Nene. She is not a part of the Kasukabe Defense Organization. After kindergarten she permanently moves to Hokkaido and is hence not shown in further episodes. She comes sometimes to meet them. In the latest episode it is shown that she has a younger brother called Kawaguchi Suotome.
Voice Actors
English: Monica Rial
Japanese: Ayako Kawasumi
Korean: Yong Sin Lee
Gallery
Community content is available under
CC-BY-SA
unless otherwise noted.