Action Mask (Action Bastard/Action Kamen/Masked Muchacho) (アクション仮面 Akushon Kamen) is the favorite TV show and toy of Shin Chan starring an masked hero with the same name. Shin Chan has a lot of toys, books etc that are based on Action Kamen.
The set-up of the show is as follows:
- opening theme
- story
- moral for today
But usually when Shinchan is seen watching the show the opening has already been shown off-screen, the same counts for the moral of the day at the end of the episode.
Shin Chan usually sees this show, and if not, he usually records it. Action Mask has its own manga spin-off.
The arch rival of Action Mask is MekeMeke Z, supreme leader of the Black MekeMeke Group. After several seasons, finally the Army and its leader are completely defeated, thus showing another main villain: Eagle Head, the ill-fated brother of Mimiko Sakura. Once defeated, the main bad guy becomes the Count Flower, played by a handsome actor.
From manga volume 41 on a sequel of the series appears, carried out by Misato Yashio (八潮 ミサト), the daughter of Gō Tarō, who transforms putting on a special bra.
Characters
Good characters
Black MekeMeke Group (ブラックメケメケ団)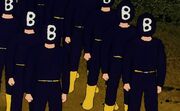 Sparrow Group (秘密結社スズメノナミダ)
Other enemies (その他の敵)
Gallery